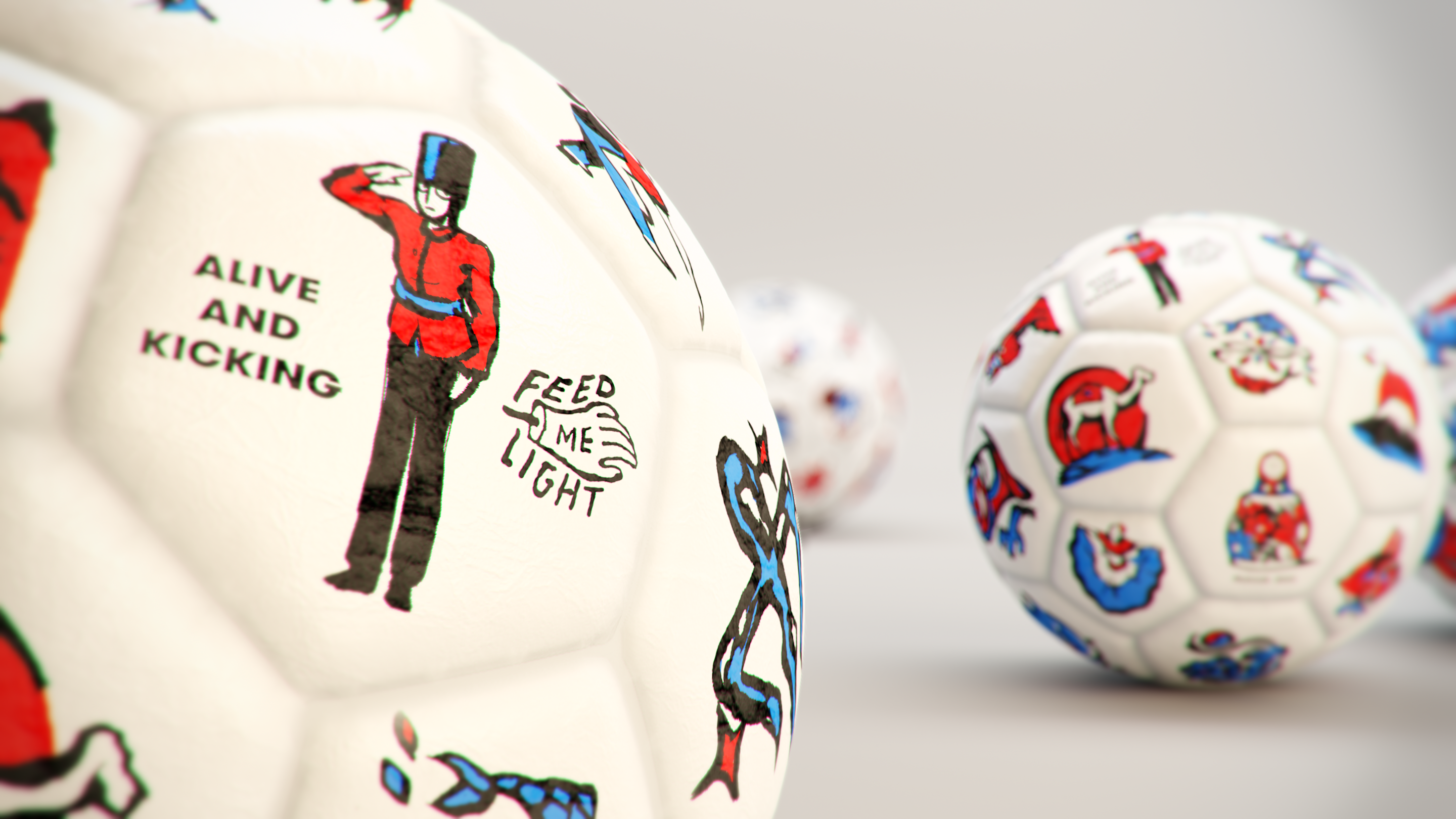 Alive & Kicking: World Cup Campaign 2018
To celebrate International Sports Day, we're revealing the design by Julien Becquer created for Alive and Kicking as part of their upcoming World Cup campaign!
Here at Feed Me Light, we try to stick to our motto of Doing Good, Creating Good and Giving Good, and so we were chuffed when we first met local charity Alive and Kicking. Our ongoing partnership with the guys at A&K has been an absolute blast, and so we sat down with Joel Phillimore, Programmes and Partnership Manager at A&K to give them the opportunity to share more of their story with you.
FML > So tell us a brief background of Alive and Kicking.
J - Alive and Kicking is an award-winning charity that:
- Creates ethical employment in sub-Saharan Africa through the manufacture of sports balls.
- Delivers vital health education to vulnerable children and adults at risk of contracting HIV, AIDs and malaria.
- Donates high quality, durable, African-made supports balls to disadvantaged children and communities across the continent.

Since 2004 Alive and Kicking has created more that 1,000 employment opportunities in Kenya, Zambia and Ghana, manufacturing more than 860,000 sports balls, trained over 1,000 health coaches to work with their local communities and donated 160,000 footballs, netballs and rugby balls to children, community football teams and schools across Africa. Alive and Kicking's vision is of an Africa where every child can play with a real ball, where thousands of jobs are sustained in the production and distribution of sports balls, and where sport significantly contributes to the health and quality of life of young people.
FML > How did Feed Me Light end up part of the mix?
J - We were very lucky that Denis, Kiri and Sammy walked into our store on Hoxton street about this time last year. After a great conversation about the work we both do, FML started exploring the possibility of creating an animation for A+K. Since then, FML have given us constant support with our design work - especially the render we use to mock up footballs for our customers and clients. We've got some very promising plans in the pipeline for later in the year and we're really excited that the team at FML have designed a new, unique football to mark this year's World Cup. There isn't another one like it on the market.
FML > And what have A&K got on the cards for the upcoming World Cup campaign?
J - Thanks to FML we've got a very special World Cup ball to offer our supporters and fans. Each panel features a unique and original illustration representing the competing nations at this summer's tournament (by Julien Becquer). Every football will be silk screen printed and stitched by hand in Kenya, supporting the ethical employment of 48 members of staff and their families.
These unique footballs will be available to pre order from Alive and Kicking from Friday 6th April, with delivery by the end of May - just in time for the World Cup! http://aliveandkicking.org/shop/products/worldcup/

Our executive producer, Kiri, shared equal excitement for the upcoming World Cup campaign:
"We've loved working with Joel and the wider team at A+K. What they do and the impact they make in Kenya, Zambia and Ghana is so amazing. We're so glad we randomly walked into their shop and met them. And it's great to work with a local charity. We get a real feel for what they do and how they do it and I think that has enabled us to help them on a more day-to-day basis which has been really great. And it seems to really make a difference. Working on the World Cup Ball has been great, Julien did an amazing job with the design. I think it looks fantastic and hopefully with World Cup fever, the balls will do really well. I really hope we can make an impact for the A+K team. I'm personally looking forward to the Rugby World Cup next year though - and definitely want to get involved with a design then too!"